Good employee relations result in lower turnover and increase productivity. Currently, there are quite a few of companies who still implement full working from home, some is practicing mix, where some employee will be work from office while other from home.
This condition makes more important for managers, line-level managers to steps up their efforts to support and engage remote employee, as well as those who work at office, and below are some practices that can be done, let's discuss them
Open discussion describes a work environment where employees aren't hesitated to give feedback to managers, focus on problem-solving, and prevent employee confusion and unnecessary stress and happier and more motivated at work.
Focus on company missions and values
Most people want to be part of something bigger than themselves, this is true for 5 generations currently in the workforce. Millennials, especially have a desire to be socially responsible and to be benefit the world as a whole.
Express your company value and missions frequently. Make sure the leadership and management walk the walk. Few businesses have as a mission 'make more money no matter what.' Instead, successful businesses have the reasons why they do what they do. Core values such as honesty, purpose, and quality work help employees to feel like they are part of something important.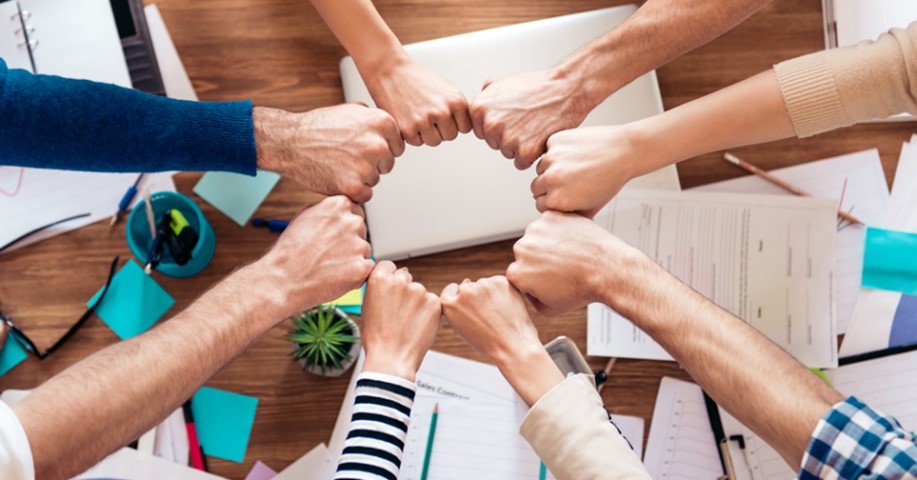 Increase the positive ratio.
Appreciate for a job well-done does more motivate than does criticism. Tell employee they are valuable, letting them know when they handled a situation or a customer well helps motivate them to do it again.
Recognize high achievers, public recognition is a huge motivator for certain personalities. it has the added benefit of showing that your company values and goals are important!
Use software streamline redundancy and eliminate mistakes
Implementing systems and software can make a big difference. That's because it helps to automate and improve communications. By implementing the right software, you can eliminate redundant tasks from employees and tap into their creativity instead. Consider that 10 minutes spent filling out a weekly timecard turns into 520 minutes each year. Instead, employees can clock in automatically. This also eliminates redundant timesheets data entry by payroll employees.
Meningkatkan hubungan karyawan yang bekerja remote.
Hubungan karyawan yang baik menghasilkan turnover karyawan yang lebih rendah dan meningkatkan produktivitas.
Saat ini masih cukup banyak perusahaan yang masih menerapkan full working from home, ada yang mempraktekkan mix, dimana sebagian karyawan akan bekerja dari kantor sedangkan lainnya dari rumah.
Kondisi ini semakin penting bagi manajer, manajer level lini untuk meningkatkan upaya mereka untuk mendukung dan melibatkan karyawan yang bekerja di rumah ataupun di tempat lain, serta mereka yang bekerja di kantor,
di bawah ini adalah beberapa praktik yang dapat dilakukan, mari kita bahas
Diskusi terbuka menggambarkan lingkungan kerja di mana karyawan tidak ragu-ragu untuk memberikan feedback kepada manajer, fokus pada pemecahan masalah, dan mencegah kebingungan karyawan dan stres yang tidak perlu serta lebih bahagia dan lebih termotivasi di tempat kerja.
Fokus pada misi dan nilai perusahaan
Kebanyakan orang ingin menjadi bagian dari sesuatu yang lebih besar dari diri mereka sendiri, ini berlaku untuk 5 generasi saat ini di dunia kerja. Milenial, khususnya, memiliki keinginan untuk bertanggung jawab secara sosial dan memberi manfaat bagi dunia secara keseluruhan.
Ekspresikan nilai dan misi perusahaan Anda sesering mungkin. Pastikan kepemimpinan dan manajemen berjalan sesuai keinginan. Beberapa bisnis memiliki misi untuk 'menghasilkan lebih banyak uang apa pun yang terjadi.' Sebaliknya, bisnis yang sukses memiliki alasan mengapa mereka melakukan apa yang mereka lakukan. Nilai-nilai inti seperti kejujuran, tujuan, dan kualitas kerja membantu karyawan merasa bahwa mereka adalah bagian dari sesuatu yang penting.
Tingkatkan rasio positif.
Menghargai pekerjaan yang dilakukan dengan baik lebih memotivasi daripada kritik. Katakan kepada karyawan bahwa mereka berharga, beri tahu mereka ketika mereka menangani suatu situasi atau pelanggan dengan baik membantu memotivasi mereka untuk melakukannya lagi.
Memberikan apresiasi untuk orang-orang yang berprestasi tinggi, pengakuan publik merupakan motivasi besar bagi pribadian tertentu. manfaat tambahannya adalah menunjukkan bahwa perushaan menghargai nilai dan goals perusahaan penting!
Gunakan redundansi perampingan perangkat lunak dan hilangkan kesalahan.
Menerapkan sistem dan perangkat lunak dapat membuat perbedaan besar. Itu karena membantu mengotomatiskan dan meningkatkan komunikasi.
Dengan menerapkan perangkat lunak yang tepat, Anda dapat menghilangkan tugas yang berlebihan dari karyawan dan memanfaatkan kreativitas mereka sebagai gantinya. Pertimbangkan bahwa 10 menit yang dihabiskan untuk mengisi kartu waktu absensi mingguan berubah menjadi 520 menit setiap tahun. Sebaliknya, karyawan dapat masuk secara otomatis. Ini juga menghilangkan entri data timesheets yang berlebihan oleh karyawan penggajian.